Visitors can enjoy are offered a self-guided tour in our 3,500 square feet of exhibits, with the help of our attentive tour guides. "The Arecibo Observatory: Beyond the big dreams", a 20 minute movie in the auditorium about the work done at The Arecibo Observatory. Afterwards, visitors receive a short talk from one of our tour guides and and a chance to visit to the observation deck to view the breathtaking science marvel, where amazing pictures can be taken.
VIP Tour
If you're interested in a more detailed tour, the VIP tour is for you. It is a 30 minute guided tour, beginning at the entrance of our Science and Visitor Center. The guide will then take you in an official vehicle to the edge of our 1,000 feet (305 meter) reflector where you will receive a detailed talk about the amazing engineering structure, which will be just inches away. On the way here, you will also see a behind the scenes of the Arecibo Observatory passing by our HF building, warehouse, engineering and scientific offices and control room, arriving again to our Center to continue enjoying the scientific experience.
Important Note:
VIP tour is not always available. Availability is based on the following: VIP tours cannot be provided if it rains due to safety issues and it also cannot be provided if there are ongoing observations at the time and the radio telescope is being used. VIP tour availability will be announced at the entrance. Up to 7 people per group per 30 minutes is permitted.
Food Stand
Hungry? We have a food stand at our Observation Deck. And, don't forget to take back gifts for loved ones. The Galaxy Shop is a great place to shop souvenirs, t-shirts, books and educational games.
Overview
Visitor's Guide
History
Galaxy Shop
Galaxy eShop (Shop Online)
Galaxy eShop:
Get your favorite souvenirs from AO including t-shirts, mugs, cellphone cases, back packs and more...
Shop Now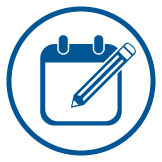 You can submit your reservation using our new
request form.
Reservations are required for school groups, college campuses or summer camp groups. For this type of groups special price is offered. No reservation is required for family visits.



Generous Supporters
With your online contribution, you can support the continuous development of the Angel Ramos Foundation - Science & Visitor Center.